Eradication of Polio is just Two Drops Away!
Since 2005 I have traveled to Ethiopia working toward the eradication of polio by vaccinating one child at a time with the polio oral vaccine. Just think one child at a time saved from a life of paralysis. It is important for me to personally give of myself. It's my time in life to get the message out that this crippling disease still exists today. The children in the world who still suffer from polio along with prevention and rehabilitation are the purpose of my Foundation. The eradication of polio is my passion. Traveling to Africa and other third world countries to improve the life of those affected is my mission.
As a child I had polio and I'm often asked how my life was impacted. That is a difficult question for me because I didn't let it have a negative impact on my life. However, the truth of the matter is that it had a minimal impact on my life because I was fortunate enough to be born in the United States. I was given excellent care by family orthopedic surgeons and provided funding for surgeries by donations from organizations such as the March of Dimes and Orthopedic Guilds. My mother was a single mom with limited funds for raising myself and two brothers. It is now time for me to give back.
I have been traveling with Rotary International, World Vision and the World Health organization with the goal of immunizing every child in Ethiopia. These trips have proven to be extremely rewarding and the most heart wrenching experiences of my life. If you have ever thought of humanitarian work and have the means, I would recommend getting involved in a program such as Rotary, World Vision or World Health. It has changed my life. My experience has driven me to form my Foundation and I ask for your help.
The Denny Wilford Foundation is working toward the prevention and elimination of polio worldwide along with the ongoing rehabilitation of polio sufferers. At this time, my focus is in Ethiopia where there are hundreds of thousands of people still affected by this disabling disease, limited to a life of crawling and begging.
My logo, Just 2 Drops, depicts the two drops of polio vaccine that it takes to prevent one child from contracting polio. Just 2 Drops, one child at a time and we will eradicate polio from the world.
Click on the "My Mission" button below to find out what my foundation is about.
The Denny Wilford Foundation is a tax-exempt, 501(c)(3) organization. All funding is provided through fundraising, solicitation and direct contributions from Denny Wilford. Denny Wilford finances nearly all administrative costs allowing beneficiaries to receive maximun benefit from your valued contributions.
Click on the links below to learn more about the Denny Wilford Foundation.
(NOTE: You do not need a PayPal account to donate. Look for the "Don't have a PayPal account" notice on the check-out page.)
Along with Rotary International, The World Health Organization, and the Denny Wilford Foundation, our goal is to help eradicate polio Just Two Drops tm at a time. As a part of Washington's Gig Harbor Midday Rotary Club, Polio Free World Foundation is committed to helping the thousands of people who still suffer from the devastating effects of polio in developing counties such as Ethiopia and Uganda. Our mission is to build hydrotherapy pools at Leonard Cheshire facilities in Africa where children and adults alike can benefit from the life-healing rehabilitation that hydrotherapy provides. Can you help?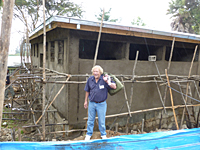 &nbsp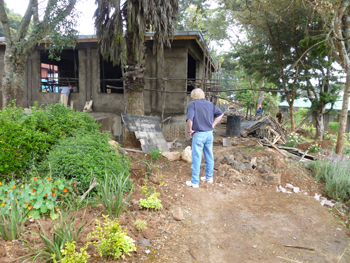 &nbsp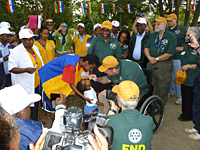 &nbsp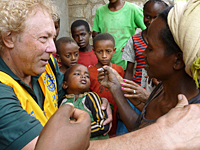 &nbsp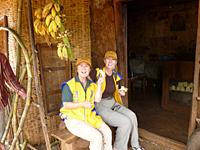 &nbsp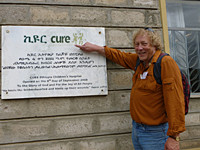 More Links:
Leonard Cheshire Foundation
Rotary International Help End Polio Campaign
Rotary Club of Gig Harbor - Midday
Rotary Club of Gig Harbor - Morning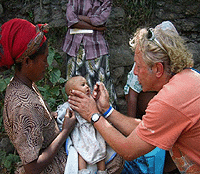 Denny vaccinating an infant in Ethiopia.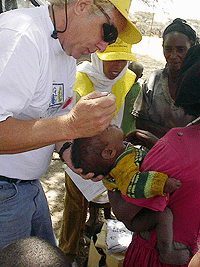 Vaccination team in farm regions of Ethiopia.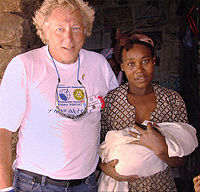 Mother relieved that her child will not contract polio.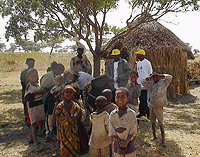 From hut to hut innoculating the children of Ethiopia.