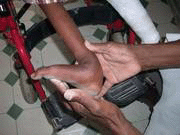 Many surgeries and rehab ahead.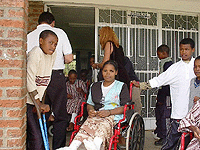 Physical Therapy Unit flurry of kids, wheelchairs and crutches.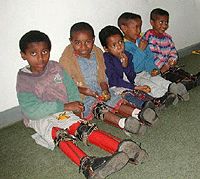 After successful surgeries and braces children wait their turn for therapy.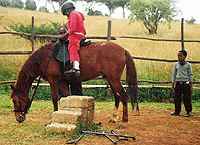 Riding horses is part of the therapy program.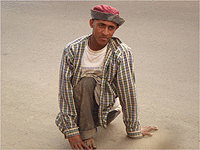 Tens of thousands of crawlers on the streets. Without your help, this is the future of children in Africa.
OUR MISSION
My mission is to assist in the program offered by Cheshire Home Rehabilitation Centre in Addis Ababa, Ethiopia. Cheshire performs miracles, providing a better way of life for children who have suffered deformity or paralysis caused by polio. Cheshire performs surgeries and physical rehabilitation as well as vocational education. They do wonderful work helping many to become productive citizens able to care for themselves.
Cheshire is dependant on contributions. With your help I will provide physical therapy equipment, specifically a hydro therapy unit. Cheshire provides any child who can get to the hospital free rehabilitation. They are treated for malnutrition and various diseases to bring them to health in order to sustain the surgeries needed to correct the deformities in their limbs. They are given physical therapy, taught to walk with crutches or orthotic shoes and mobilized with wheelchairs when necessary.
Having visited the Cheshire Home for the past 2 years I am aware of the limitations of the current equipment within their "physical therapy department".
At present, the physical therapy equipment consists of a ladder lying on the floor under parallel bars at waist level. The children support their weight with their arms on the parallel bars and walk on the ladder rungs. This doesn't provide much lateral strength and flexibility but it is the best they have, they make it work. At the next stage of therapy the children are taken out to a paddock where they are taught to ride a horse. This activity aids in providing the lateral movement and strength they need to walk on uneven ground. That is the extent of the physical therapy department.
Through my Foundation I hope to provide Cheshire with treadmills, bicycle equipment, gym equipment and specifically a hydro therapy unit. Water aerobic therapy, in my personal experience, helps to improve agility and mobility. With greater strength a child would move on to regular gym equipment. The hydro therapy unit I envision is fairly simple and would not require much in technology for care and maintenance. It would need to fulfill the requirements of 70 to 100 patients in various stages of physical needs. I feel that a unit approximately 9 x 12, 1000 gallon capacity and various levels would be a beneficial addition to any physical therapy program.
CURRENT SITUATION:
Every year we have gone to Ethiopia to provide polio vaccinations. In November, 2013, we vaccinated about 1000 babies, toured Cheshire Polio Rehabilitation Center for an inspection of the hydrotherapy pool project, took supplies to the Hamlin Obstructive Birth Hospital, and helped initiate collaboration between Cure Hospital for Children and Cheshire.
The Cross Border Immunization pgoram was in the beautiful city of Awasa. We walked miles, house to house, and other parents were walking to intercept us to ensure their child would not have polio. Cheshire is a beautiful plce and is rehabilitating 60 or so children every few months. The hydrotherapy project is nearing completion. The beautiful building structure is complete. At the fistula hospital we gave the ladies scarves supplied by my friend, Sara. I am very proud to have met Dr. Mary from Cure Hospital and helped get a very important collaboratioin between free child surgery at Cure and free post surgery rehabilitaton with Cheshire. Dr. Mary says everything Cheshire does, Cure needs.
We will be going again this fall to continue the vaccinations. We are in need of additional funding to finish the hydrotherapy project. Several redesigns were needed to ensure the hydrotherapy building and support systems were going to last for generations as the need is great and ongoing.
Feel free to contact me for more information, and remember that 100% of your tax-exempt contribution goes to the project.
Please help: make a donation, make a difference.
Your donation of any amount will go far in helping a child in dire need. The arrangements are made, the children are waiting. All that is missing is your gift. Please help with what you can afford. Every little bit will make a difference to a suffering child in need.
Send your gift of a personal check payable to:
Denny Wilford Foundation
1399 SE Fauna Ln.
Port Orchard, Wa.
OR... click on the "Make a Donation" link below to conviently contribute online.